Check out 9 Modern Elevations which are simply inspiring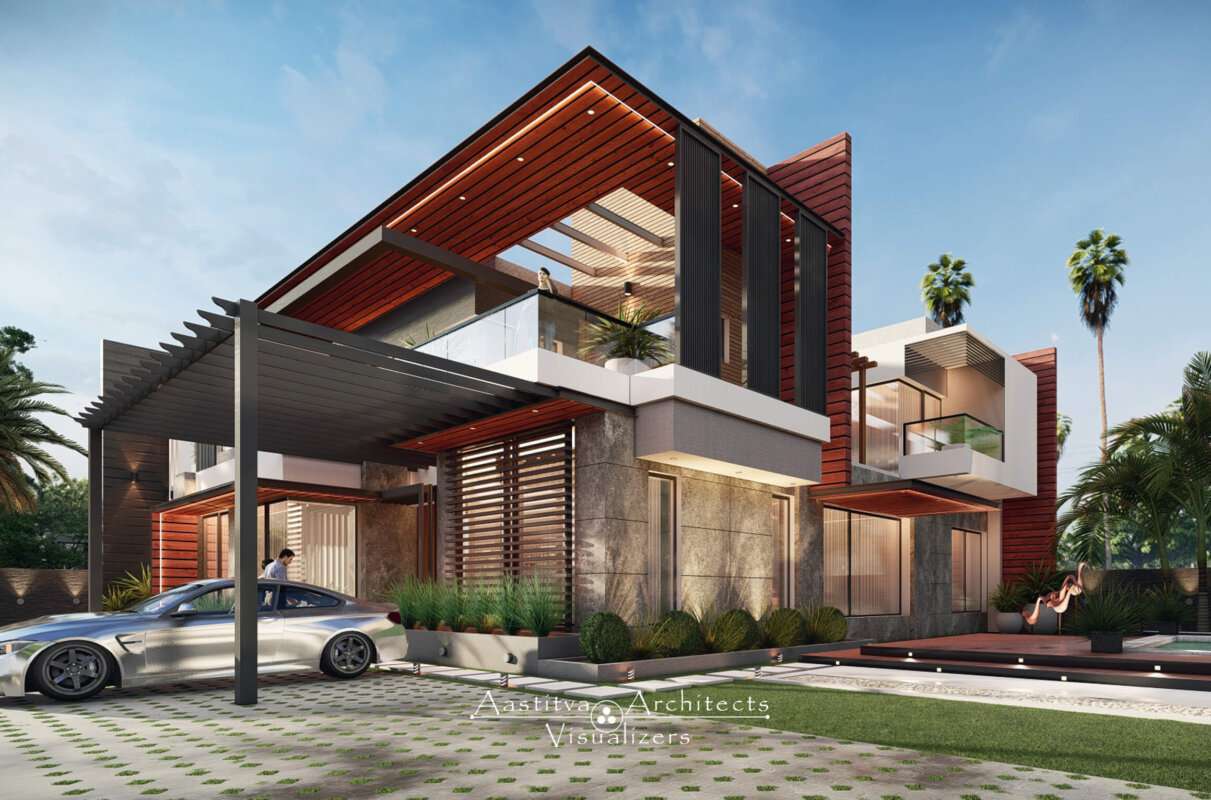 Cladded with HPL panels and Mild steel louvers, grills, and beautiful modern landscaping with pool area, flamingo art installation, round hedges, glass railing. This design is simply elegant.
Modern Elevation Design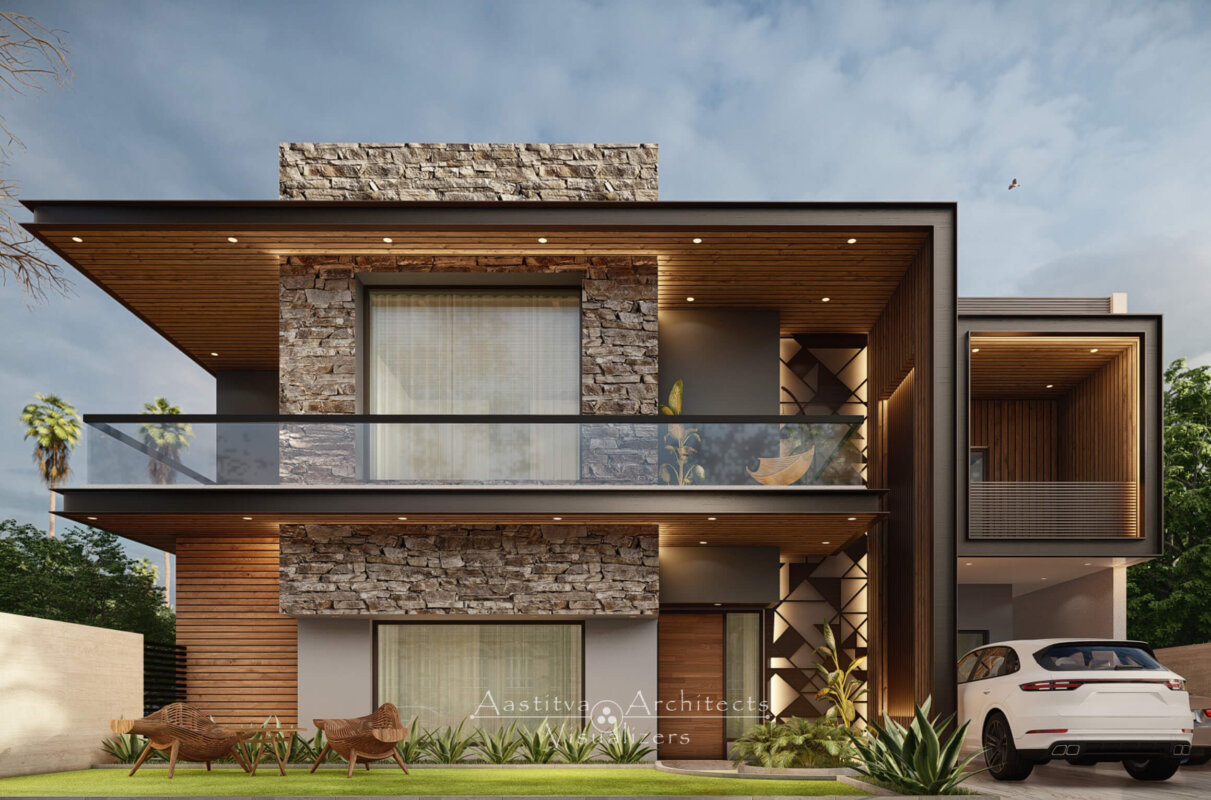 With a contrasting effect of bold stone cladding, with elegant H.P.L Panels seamlessly running from the ceiling through walls. With huge modern doors and M.S laser cut design with a light wash. This Modern Elevation Design is perfect for houses that have good frontage.
With modern landscaped boundary wall and highlighting green wall with spotlights on. The bold elements of this elevation simply grab your attention. H.P.L sheets cladding with texture paints make this elevation even more beautiful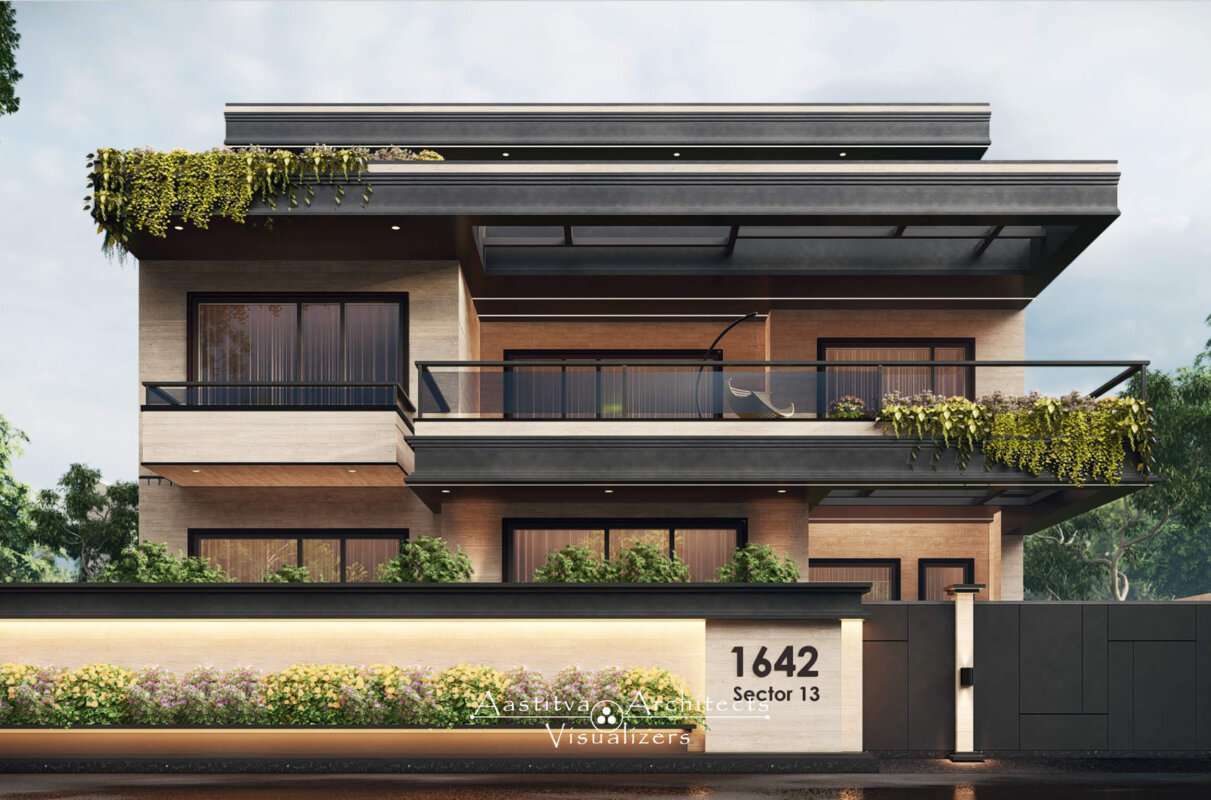 The beautiful color combination of travertine stone and MS Frames makes this elevation beautiful. A little greenery on the balconies adds up the contrast to the complete elevation.
Also, Read – Five Home Design Ideas for Every Space and Budget
Modern Elevation Design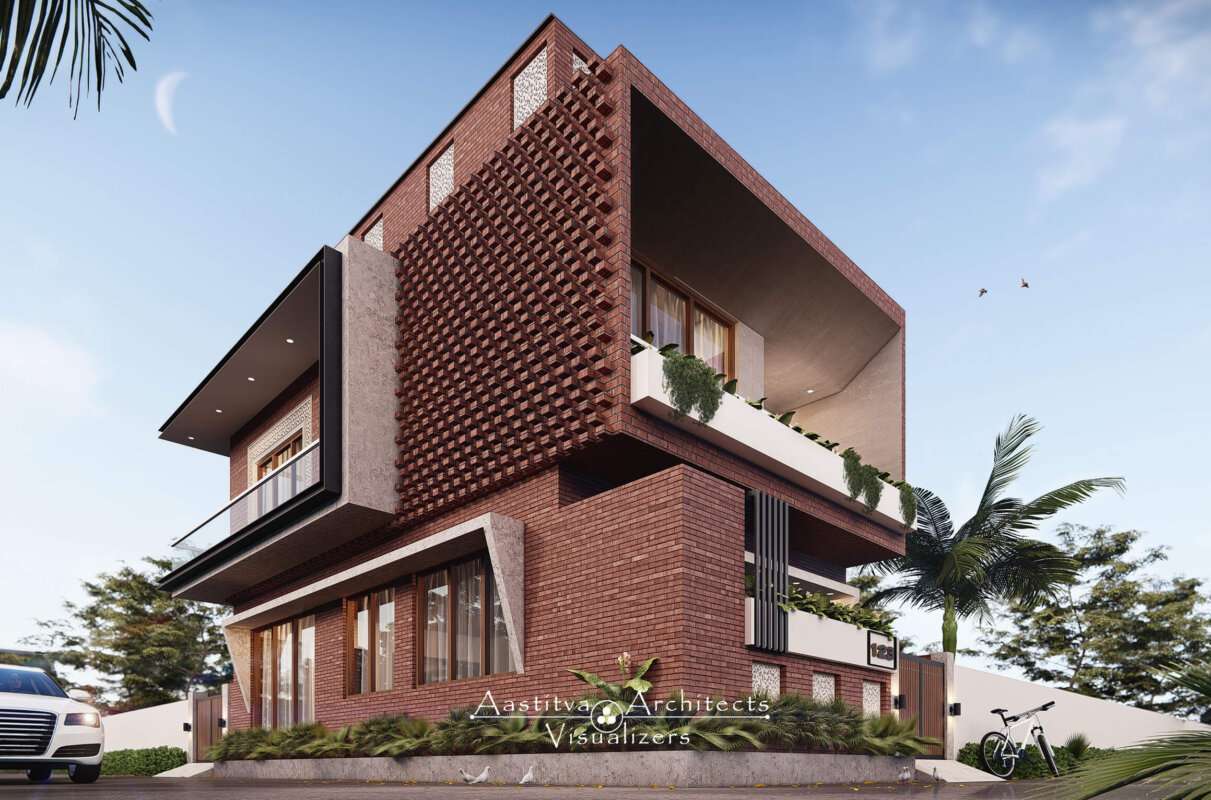 Exposed red brick tiles on the facade with M.S Section and white texture paint to highlight the balconies. Jaalis on the parapet wall and window frame make this elevation is the perfect intake of modernism with a little traditional touch.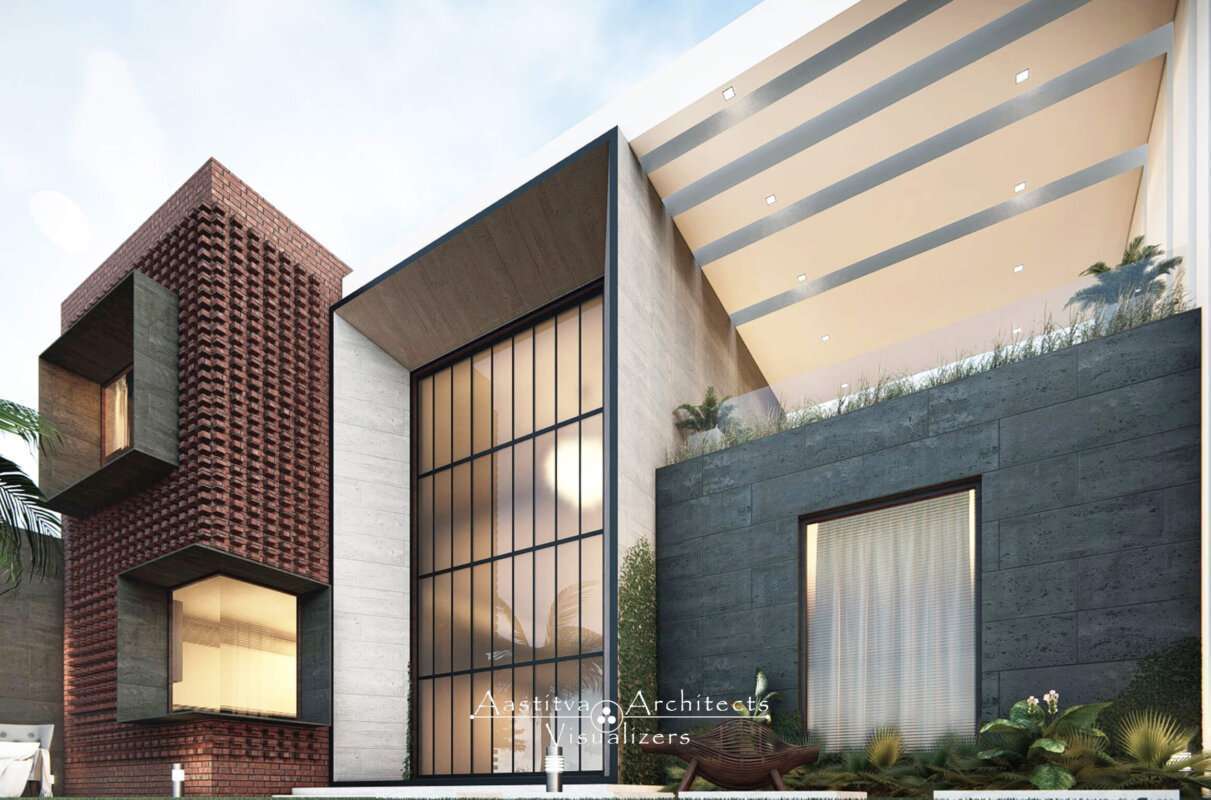 3 Contrasting bold elements of stone cladding, plaster finish, and brick tiles make this elevation unique in its own way. Projecting slabs and walls from Double height glass facade below the massive concrete pergola adds up a bold character to the building.
Also, Read – Interior Design Vs Interior Decorating Vs Home Staging Vs Interior Redesign – What's the Difference?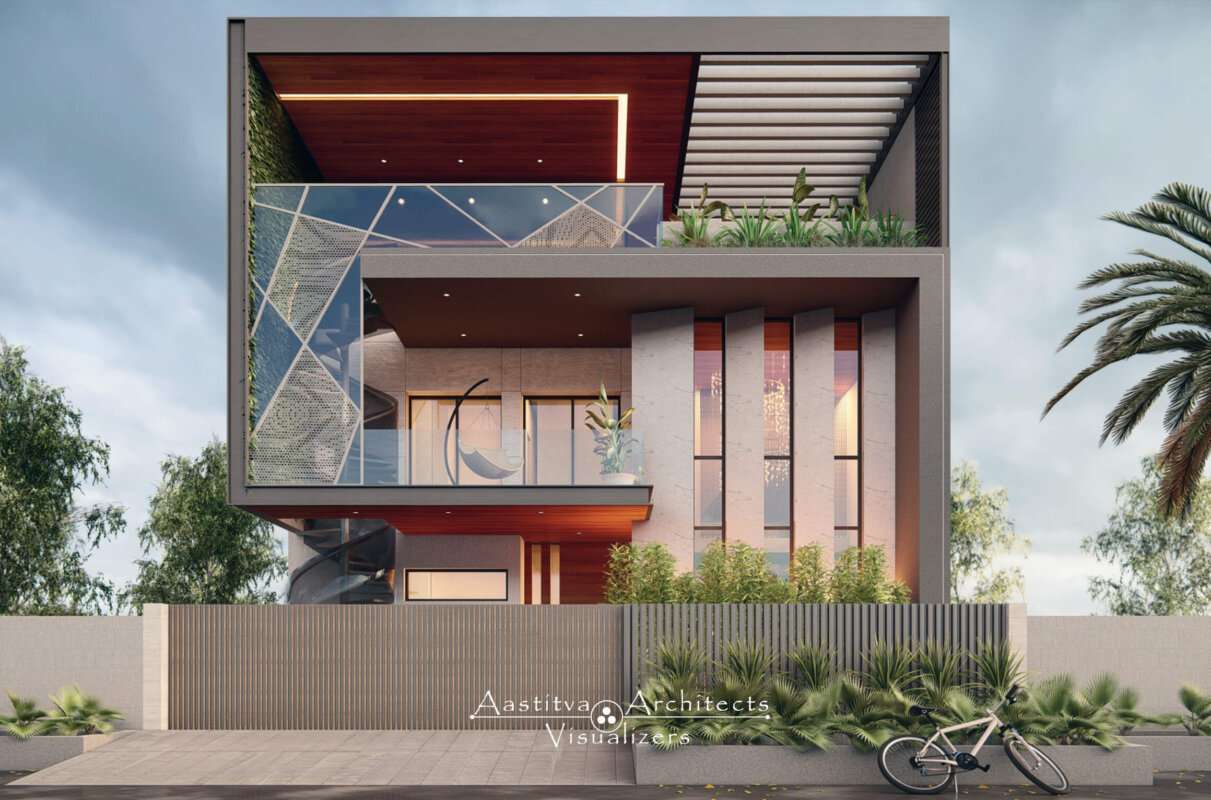 Lighting speaks of it all in this modern elevation, with channel lights on the H.P.L cladding ceiling and a modern chandelier hung on the double-height space visible from the outside. Unique glass design and partially hiding the spiral staircase. Greenery contributes to a major part in the looks of this elevation.
Modern Elevation Design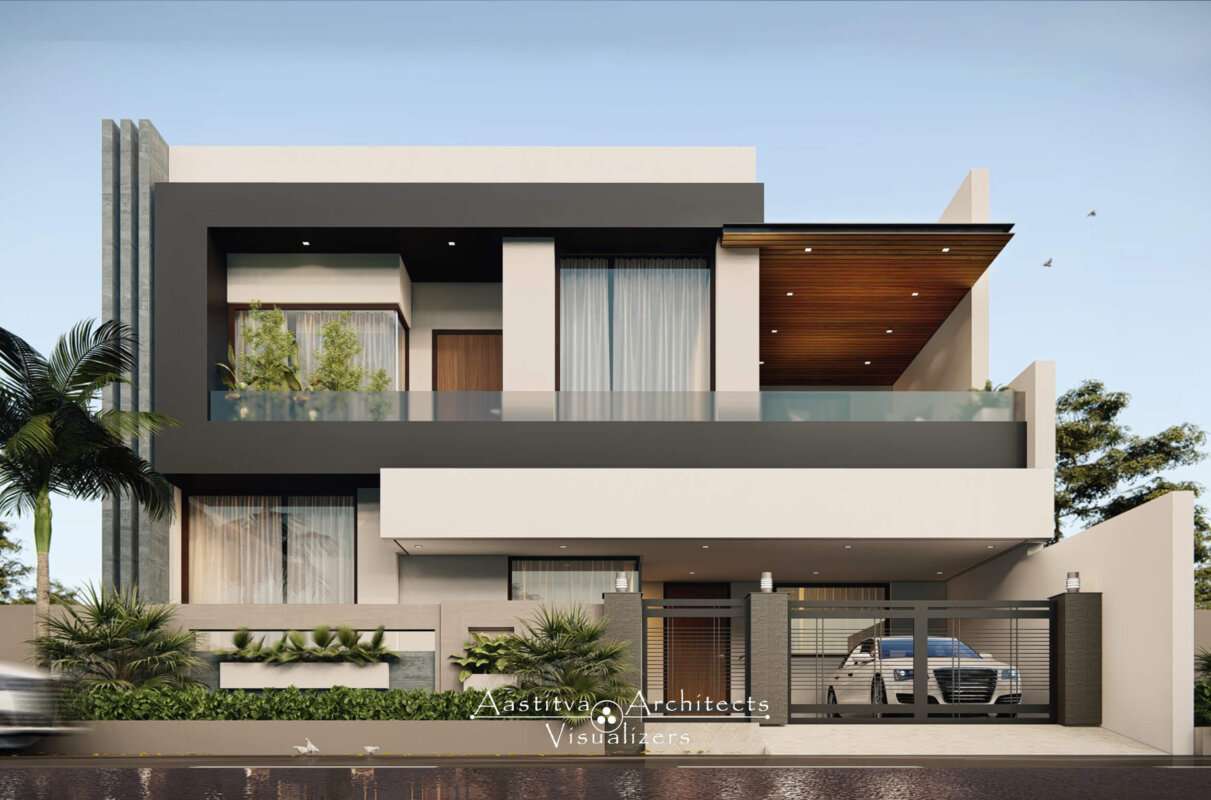 Also, Read – Architecture Design – 5 Stunning homes of 2020 you cannot miss
Bold modern elements of white and dark gray colors highlight this building. With a combination of M.S grills and glass railing and full height windows touching slabs. The proportions of this elevation with the HPL cladding ceiling define it as an elegant example of Modern Elevation Design.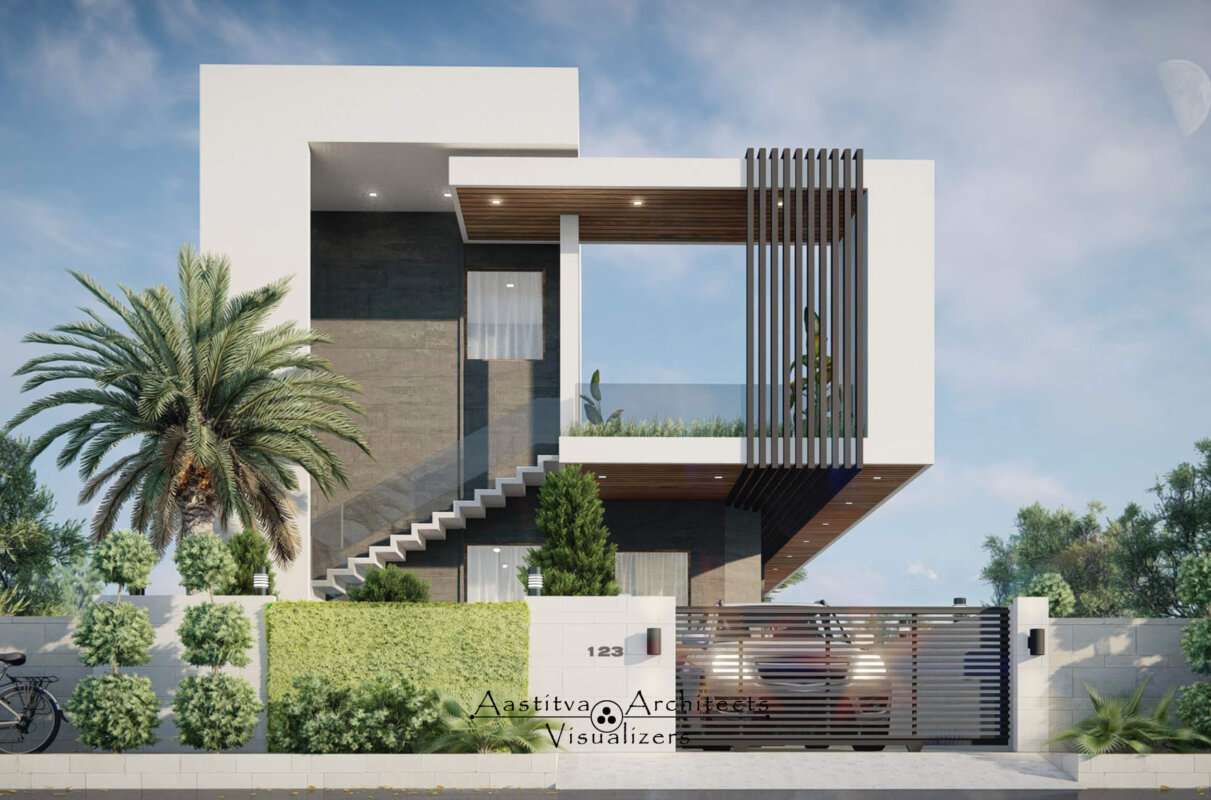 Bold white masses on this facade shows a perfect example of minimalism in buildings. Vertical M.S louvers binding the projection and greenery composing the scenery picture this beautiful house is.
P.S This is a perfect example of elevation which adds false volume to the house.
About us,
Aastitva Architects and Visualizers have been working on the amazing quality of architectural animation, designing, rendering, and walk-throughs, providing top-notch services to its clients. Make sure to stay updated on their content on Facebook, Youtube, and Instagram.
Check our Interior Gallery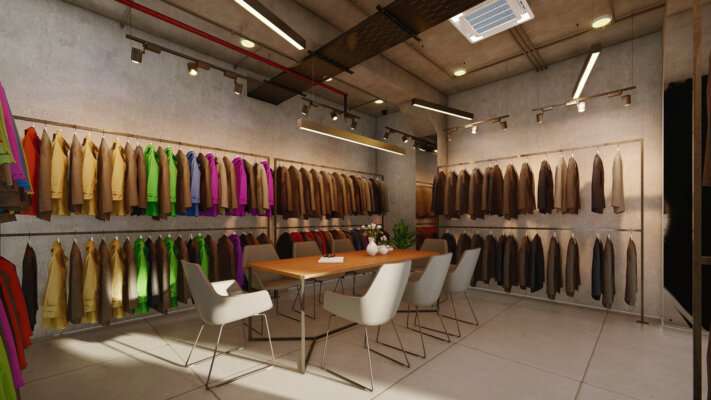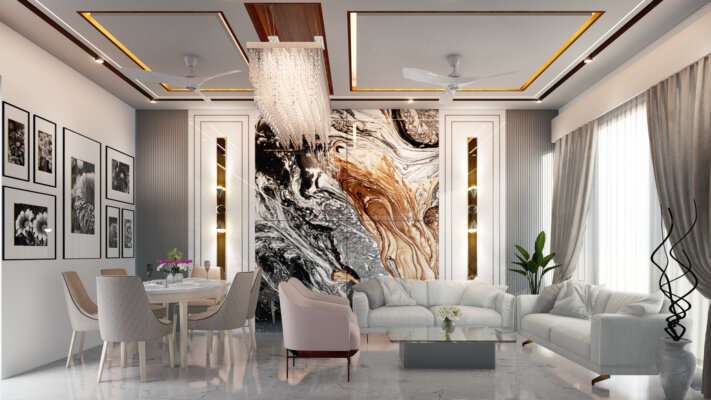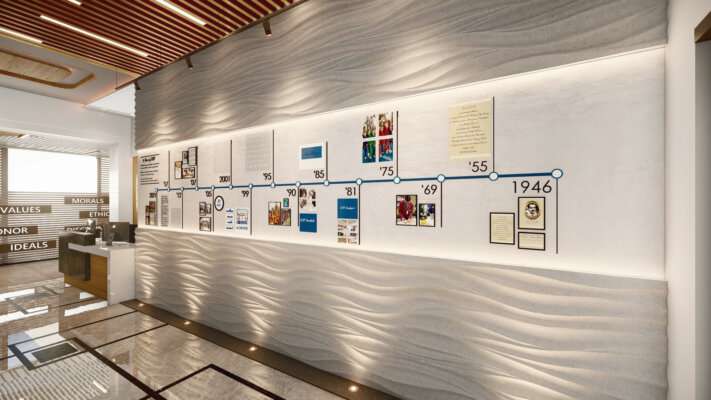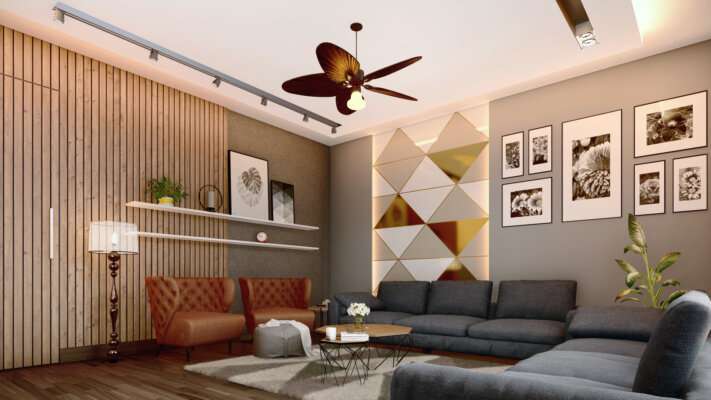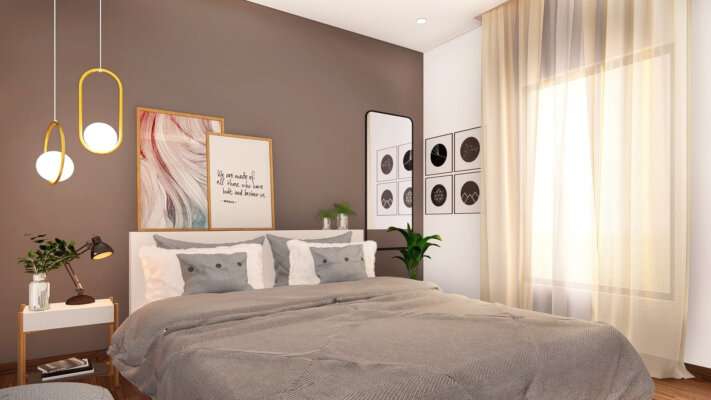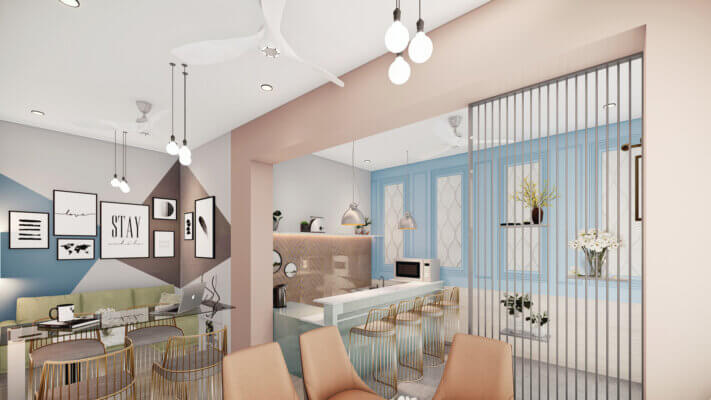 INTERIOR GALLERY
Check our Exterior Gallery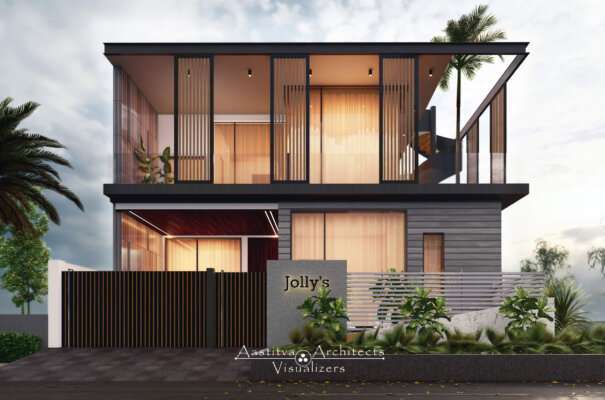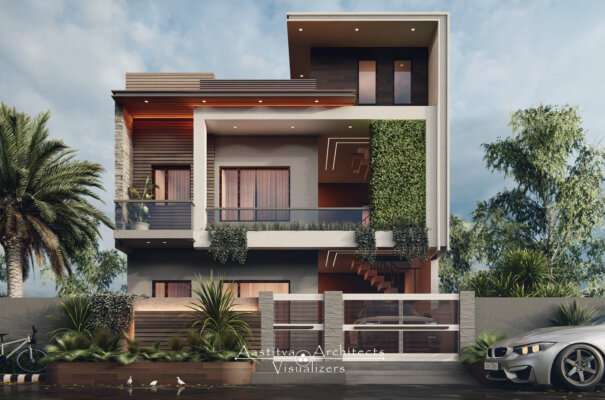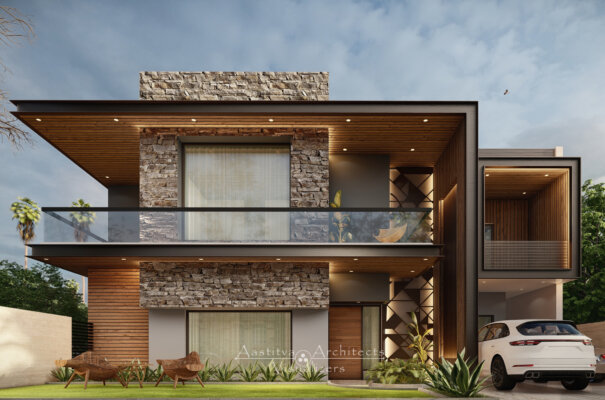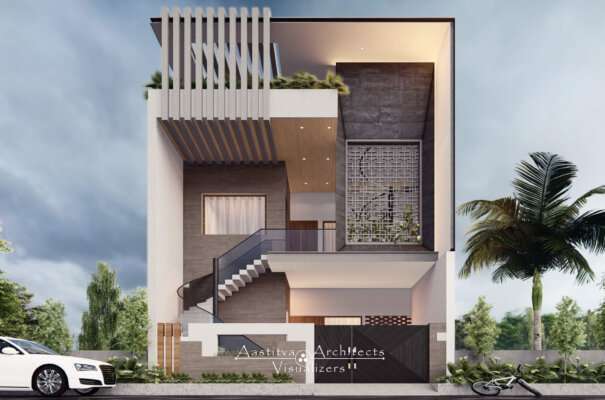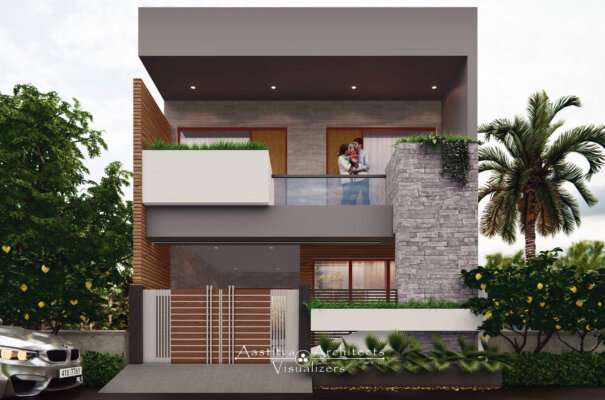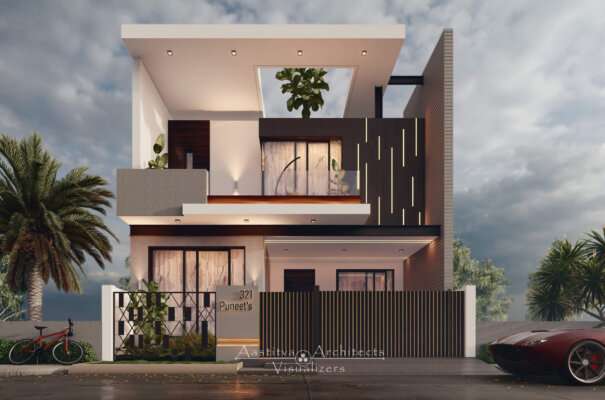 EXTERIOR GALLERY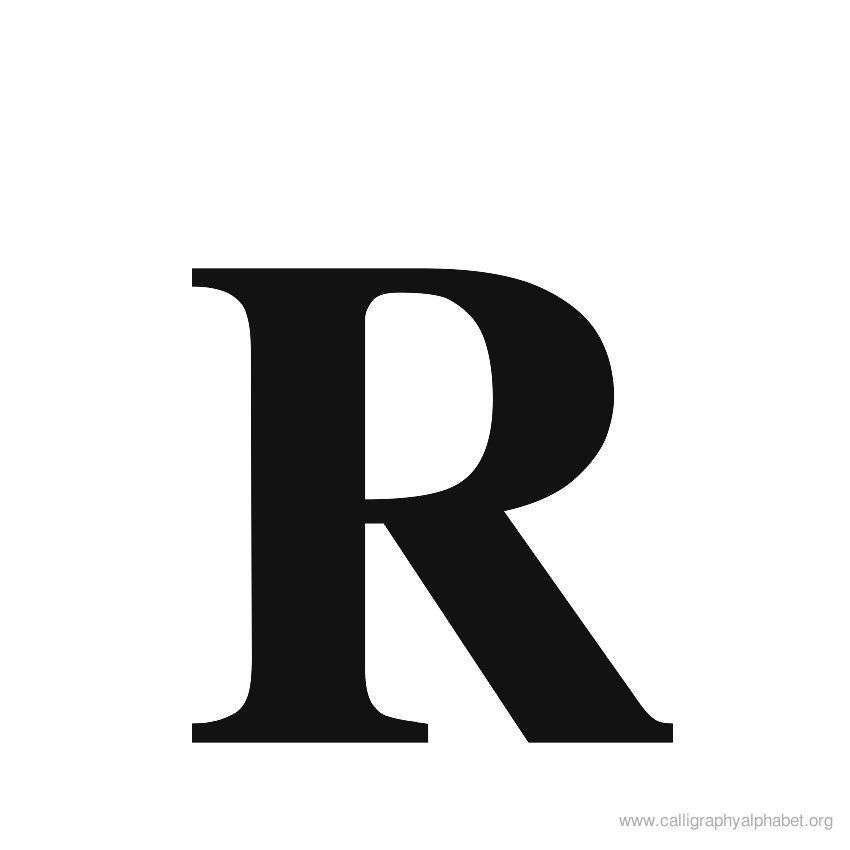 Architect and Blogger
Author at Aastitva Architects and Visualizers